History
Historical brand, continuous innovation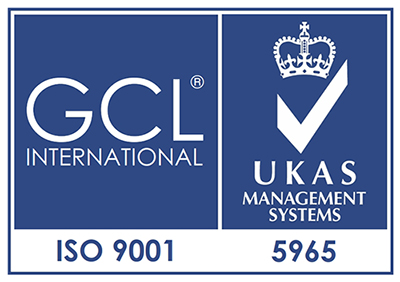 Giulio Matteuzzi (Claudio and Emilio's father) first went into business for himself in 1956 and built the first Matteuzzi product - a solution spraying tank.
At that time in Italy tyres were retreaded using a highly rudimentary technique, which mainly relied on the worker's physical strength.
Matteuzzi's basic aim then, as now, was to make tyre retreading simpler and more efficient, in order to:
reduce the physical effort involved
make the workplace safer and healthier
improve the quality of retreading
reduce production costs
A cementing machine was then added to the solution spraying tank, with two arms to rotate the tyre. Now the operator simply had to pull the trigger on the spray gun while the tyre rotated.
The success of this machine enabled Matteuzzi to strengthen its ties with Italian retreaders and establish genuine friendships, transcending business, with all of its customers, friendships that have grown steadily over the years.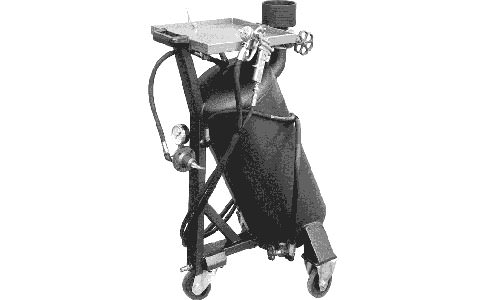 This sketch was drawn by Silvano Sacchetti, Matteuzzi's first employee, in his spare time. the original is now conserved as an official document.
Matteuzzi has built its first template-controlled automatic buffing machine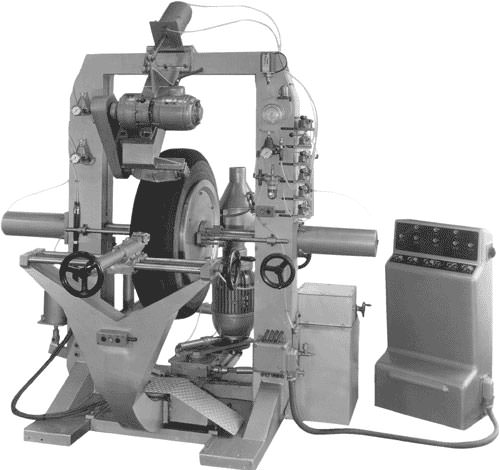 First Matteuzzi stand at SIAC fair (now Autopromotec) held in Bologna, Italy in 1965
The next creation, the 540/2 inspection spreader, was introduced in 1966. The apparently meaningless number indicates that the machine could work tyres with a 540 mm (21 1/4") cross-section supported between 2 spreader rollers. It was later discovered that the machine also happened to weigh 540 kg. This machine, the first Matteuzzi product to be exported all over the world, has become the Matteuzzi benchmark and is still as popular today as it was 40 years ago.
Matteuzzi has produced more than 3500 of these machines (as of December 30, 2006). The first one ever built is still working at a tyre retreader not far from Bologna. Matteuzzi then turned its attention to car tyres, creating the 10/16 Export tyre inspection spreader.
Today Matteuzzi continues to produce and expand its line of inspection spreaders that include the "P" series, which features all automatic cycles, including loading and unloading and are especially used by new tyre manufacturers.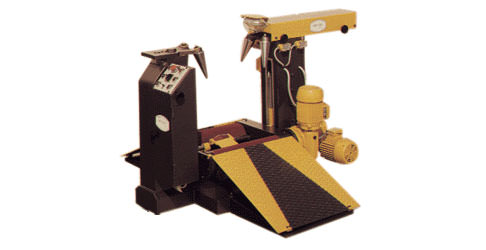 In April 1971 at the annual retreaders' convention in Louisville, KY, U.S.A., the moving spirit behind these creations suddenly passed away, his two sons still in their early 20s.
The two Matteuzzi brothers soon decided to carry on their father's spirit and creativity. Several new products were developed in quick succession:
tyre trimming machines
painting cabins
machine for inserting and extracting curing tubes
tyre repair and preparation tables
automatic cementing machines
Next came a series of testing machines to check the tyre casing or the retreaded tyre at its working pressure:
RAS 10/16 for car and light truck tyres
G100 for truck tyres
In 1974 Matteuzzi built for a company in Roma the first LINER 350, finishing line for precured treads, demonstrating once more the ability to develop new machinery.
Matteuzzi has steadily developed this range of products through the years and now builds machines with varying degrees of automation (from semiautomatic to computerised), designed to work different lengths and profiles of precured tread strips.
Matteuzzi is specialised in supplying complete custom lines capable of feeding out the precured tread strip from rolls and carrying out all subsequent finishing operations: sanding, both in the centre and on the wings, as required, cementing, drying, packaging (the strip is once again formed into a roll, with the insertion of a plastic film) and weighing, followed by the printout of production reports.
In 1987 Matteuzzi introduced an automatic trimming and testing machine, first for new car tyre manufacturers and later for the retread industry.
Matteuzzi has made buffing and building machines for tyre retreading since the very beginning, and in
In 1989, they have introduced the first computerised buffing machine for truck tyres, the RAS 90 DC buffing machine, featuring simple but innovative technology.
Shortly after this came the RAS 45 DC for car and light truck tyres.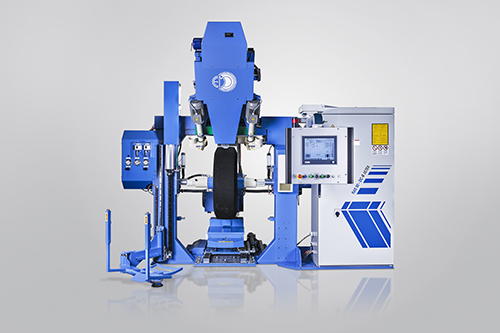 Described by industry experts as the "world leader in computerized buffing technology" Matteuzzi now has over 800 computerised buffers in operation around the world.
The finest demonstration of Matteuzzi experience and technology is found in complete lines, where its computerised buffing machines, tyre conveyor monorails and various work stations provide the perfect response to the most demanding production needs.
Matteuzzi's range of products for new tyre manufacturers has been constantly improved through the years and includes a wide selection of machines, such as:
inspection and testing machines
trimming machines
run-out reducing machines (grinders)
machines designed on the basis of customer specifications
More than 25 years of computerized buffing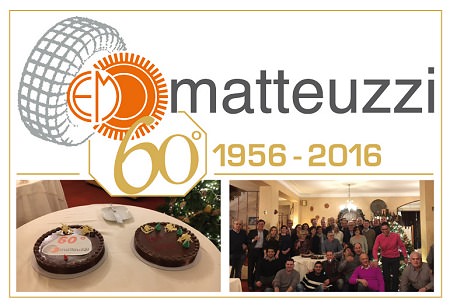 60° ANNIVERSARY
2016 marked the 60th anniversary of matteuzzi srl: an important milestone the company chose to celebrate with simplicity and warmth, together with its employees and other people who work with it.
A dinner offered by the founders and present owners, a nice cake according to tradition, and something even more concrete: gifts for company staff and charitable contributions to associations that look after children and adults who are suffering.
A gesture of solidarity shared by all personnel, who for their own part collected funds on behalf of the AGEOP – Parents' Association of Paediatric Haematology Oncology, a Bologna-based non-profit organisation: a sign of sharing of the company's values worth more than a thousand words.